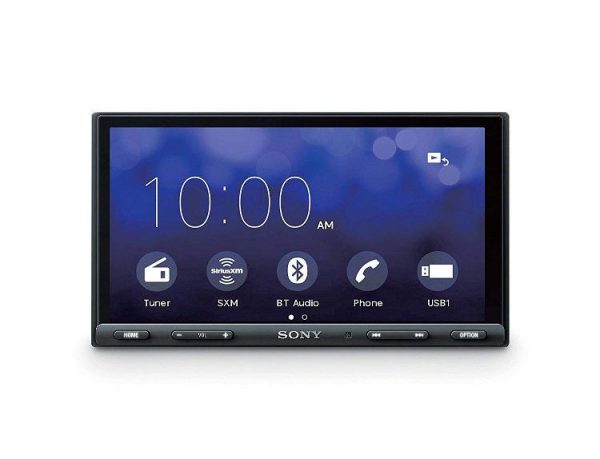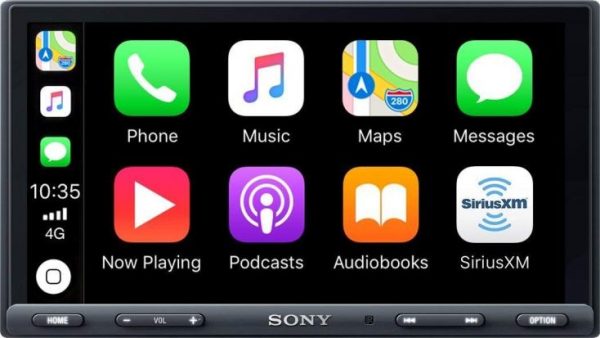 Sony XAV-AX5000 17.65cm (6.95 Inch) Media Receiver With Bluetooth
24,990.00
Brand: Sony/Model: XAV-AX5000
2 Year Warranty.
GST Invoice.
Free Delivery All Over India.
4 in stock
Description
Sony XAV-AX5000 Car Stereo.
Buy Sony XAV-AX5000 car stereo for your car for complete entertainment. The Sony XAV-AX5000 Bluetooth Car Stereo is Double Din car stereo is power with 4 x 55W output which deliver clear audio output with high volume. The Sony XAV-AX5000 Digital Media Player with Bluetooth can be controlled with your voice command.
The sony double din car stereo comes with Ultra Slim Bezel Less 6.95 Inch Touch Screen High Resolution LED Display with Full HD Video Support.
The device has dual USB Connection for more connectivity. The Sony AX5000 stereo is compatible with Apple & Android Devices for getting direction, music and many more.
Get direction, play music and contact when connected with your smartphone.
Sony Bluetooth Car Stereo XAV-AX5000 stereo with Bluetooth can be connected with 2 Smartphone simultaneously. You can connect two Smartphone with the Bluetooth. The sony car stereo is compatible with your iOS or android device. The Sony XAV-AX5000 Media Player have extra bass boost feature therefore producing great sound.
The stereo has 10-Band digital equalizer for sound customization. AOA 2.0 compatible Dual USB Port which can be connected with your android or iOS device.
Wavehertz offer Sony XAV-AX5000 Lowest Price. The product comes with 2 year brand warranty applicable all over India.
Specifications:
Brand: Sony.
Model: XAV-AX5000
Type: Double Din.
Screen Type: Touch Screen, Capacitive.
Resolution: 800 x 480 Pixels.
Contrast Ratio: 600
Brightness: 500 cd/m2
Bezel Less Panel.
Voice Control with Apple & Android Auto.
Screen Size: 6.95 Inch (17.65cm)
Pre Output: 3
Power Output: 4 x 55W
Dual USB: Yes, Rear
EQ: 10
High Pass Filter: Yes.
Sub Output: Yes.
Firmware Upgradability: Yes
Extra Bass: Yes
FM Radio: 18 Preset Channels.
Dynamic Stage Organizer (DSO):
Rear View Camera Input: Yes.
Color: Black.
Ipod Control: Yes.
Bluetooth : A2DP Version 1.3
AVRCP: Yes
PBAP: Yes
Remote Control: Yes.
Android Control: Yes.
Key Illumination: Yes. White.
Dimension: 178mm x 100mm x 139mm
Weight: 1.1Kg.
Warranty: 2 Year.
You may also like…
Pioneer Single Din Car Stereo MVH-089UB USB/AUX/RADIO

Listen to your favorite music through USB with more clarity using Advanced sound retriever (ASR). ASR adds life to your music by improving the sound quality of compressed media files like MP3. This car stereo also has a 5-band graphic equalizer that allows you to tune it the way you want. Enjoy precision and control.

3,950.00