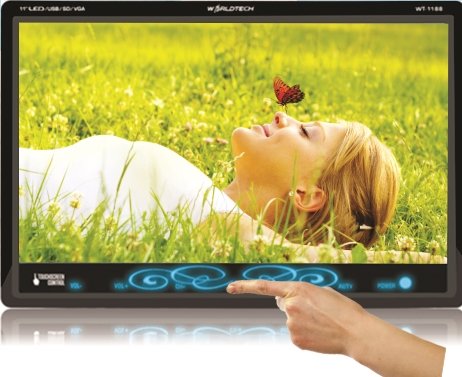 Worldtech 11 Inch LED TV WT-1188U Portable LED TV
7,999.00
Brand: Worldtech/ Model: WT-1188U
11 Inch HD LED Display
CCTV Camera, Set-up Box, USB, HDMI Support
1 Year Warranty

5 in stock
Description
Additional information
Reviews (4)
Description
Worldtech 11 Inch LED TV Product Description.
Worldtech WT-1188U Multi-Purpose Worldtech 11 Inch LED TV for Car & Home Compatible with Car Security Camera, DVD, SD Card, Set-Top-Box, USB, CCTV Camera. Play Your Movies, Music and Videos in the car and Home Built-in stereo speakers Wireless Remote Control.
Features:
Worldtech Small Portable TV.
Model: Worldtech WT-1188U
Worldtech 11 Inch LED TV.
Installed As Car Display.
Compatible With Set-Top-Box with AV, RCA Input Port,HDMI.
USB Input, SD CARD Input.
Compatible With Car Front & Rear View Camera
Compatible With CCTV Camera In, AUX Out.
Portable Small LED TV 11 Inch.
Small LED TV Can Be Used While Travelling In Car, Vehicle.
High Resolution Display For Enjoying Your Favorite Movie & Songs.
Comes With Full Function IR Remote Control.
Comes With Built In FM Radio.
Plug & Play TV, Movies, FM, Music & Photos.
USB 2.0 Support.
Ideal for AV, RCA Equipment.
Touch Buttons on LED TV Making User Friendly.
Worldtech 11 Inch LED TV Specification.
Brand: WORLDTECH
Model No.: WT-1188U/18
Warranty: 1 Year Manufacturer Warranty
Type: TV/ Media Player/ FM/ Music/ USB Media Player.
Ideal For: Home, Office, Hotel, Shop, Car, Boat, School & Any where you Want.
Input Voltage: 12V 1.5A DC (Adapter Included)
Also Work with any 12V DC Power Source.
Fm Radio: Yes (FM Frequency 87.6~107.8MHz).
AUX Output: Yes
AV Input: Yes
AV Output: Yes
Full Function Remote Control: Yes
Can Read Media Files From USB Devices or TF cards.
Videos Formats Supported: MPEG1/ MPEG2/ MPEG4/ XVID/ H.26H/ H.263/ WMV9/ VC1/ RMVB/ MKV/ VOB/ PMP/ TS/ TP/ MOV/ MP4/ MP5 etc.
Audio Formats Supported: MP3/ WMA/ OGG/ FLAC/ APE/ AAC/ AC3/ ATRA/ DTS etc
Image Formats Supported By Worldtech 11 Inch LED TV: JPEG/ BMP/ GIF/ PNF etc.
Subtitles Formats Supported: SMI/ ASS/ SSA/ SRT/ SUB/ SUB+IDX/ TXT/ ISO/ DVD Navigation etc.
Wavehertz.com Offers Worldtech Portable LED TVs
We are Authorized Dealer For Worldtech LED TV.
Additional information
Shipping & Return Policy

Product Will Be Dispatched With In 1-2 Working Days.
Return Will Be Accepted With In 7 Days Of Order.