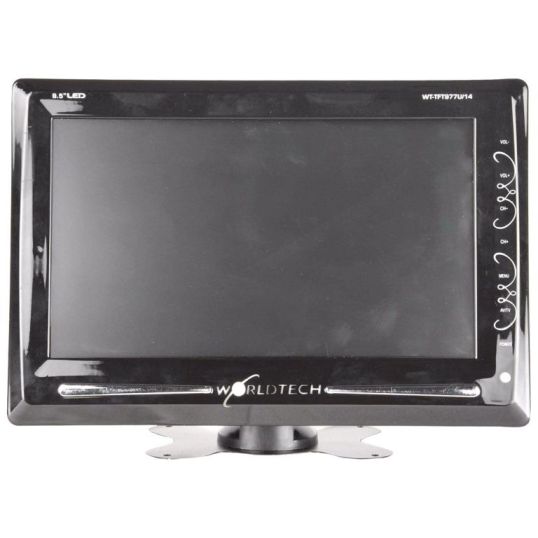 WORLDTECH LED TV 9 Inch Portable LED TV Model: TFT977U
4,999.00
Brand: Worldtech
Model: WT-TFT977U
9.5″ HD Display
USB, Set-Up Box, CCTV Camera, DVD Play
9 in stock
Description
Worldtech 9 Inch LED TV Product Description..
Multi-Purpose 7  LED TV for Car & Home Compatible with Car Security Camera, DVD, SD Card, Set-Top-Box, USB, CCTV Camera. Play Your Movies, Music and Videos in the car and Home Built-in stereo speakers Wireless Remote Control.
Worldtech 9 Inch LED TV Can Be Used As Small Portable LED TV Which Works On 12V DC Power. You Can Enjoy Your Favorite Music & Songs While Travelling. Worldtech 9 Inch LED TV Can Be Installed In Car For Rear & Front Camera Support.
This can be used for CCTV Camera Display & Surveillance. Watch Your CCTV Camera's On This Small Portable TV With Minimum Space.
Features.
Worldtech 9 Inch LED TV.
Small LED Portable TV.
Suitable For Home, Vehicle, Shops.
Compatible With Set-Top-Box with AV, RCA Input Port.
USB Input, SD CARD Input.
Compatible With Car Front & Rear View Camera
Compatible With CCTV Camera In, AUX Out.
Portable Small LED TV 9 Inch.
Small LED TV Can Be Used While Travelling In Car, Vehicle.
High Resolution Display For Enjoying Your Favorite Movie & Songs.
Comes With Full Function IR Remote Control.
Comes With Built In FM Radio.
Plug & Play TV, Movies, FM, Music & Photos.
USB 2.0 Support.
Ideal for AV, RCA Equipment.
Touch Buttons on LED TV Making User Friendly.
Specification:
Brand: WORLDTECH
Model No.: WT-TFT 977U
Warranty: 1 Year Manufacturer Warranty
Type: TV/ Media Player/ FM/ Music.
Ideal For: Home, Office, Hotel, Shop, Car, Boat, School & Any where you Want.
Input Voltage: 12V DC (Adapter Included)
Also Work with any 12V DC Power Source.
Fm Radio: Yes (FM Frequency 87.6~107.8MHz).
AUX Output: Yes
AV Input: Yes
AV Output: Yes
Full Function Remote Control: Yes
Package Include:
1 x Warranty Card (Will Valid with Date on Device)
1 x Worldtech 9 Inch LED TV & Accessories